The Sugar Land Skeeters were getting ready to play El Paso. It was fireworks night at the ballpark.
A day after recording two more hits to bump his average to .343, Jake Meyers was going through his normal gameday routine. He was getting a few bites to eat, chatting with teammates.
And then his manager, Mickey Storey, gathered the team in the clubhouse.
"(He) had a really long speech and he told me I was going to the big leagues," Meyers said. "It was a moment I'll never forget."
Meyers immediately called his family and fiancée. They were crying, the Omaha Westside graduate said. Ecstatic.
So was Meyers, a former Husker who saw his stock soar during the summer playing in the Houston Astros' farm system. He was supposed to roam the outfield at a 7,500-seat ballpark on a Texas summer night on July 30. Instead, he was on a plane for San Francisco.
Welcome to the big leagues.
"It's workings of your whole life, but even more so the past couple of years," the former Husker said Friday ahead of the Astros' series-opener against the San Diego Padres. "It's been grinding and putting in the work, and it's a moment that you dreamed about but didn't know if it would come.
The goal, of course, for any player in the minors is to get the call-up to the majors. But even Meyers admits, his rise to the Astros' everyday lineup happened quickly.
In 2019, he hit .213 in 24 games with Double-A Corpus Christi, and then it got more challenging. COVID-19 canceled the 2020 minor-league baseball season, and players wanting to boost their pro stock were left in a pinch.
Meyers, however, was able to train at the Astros' alternate site — a spot for minor-leaguers to stay sharp in case the big-league teams needed roster reinforcements during the shortened COVID-19 season.
It was a bunch of intrasquad games. A lot of live at-bats. And it played a critical role in Meyers finding his groove as a hitter to already go with his stout defensive skills.
"I got the chance to work on a couple things without having organized baseball," Meyers said. "I got to face really, really good pitching (against) guys like Luis Garcia (now in the majors) and other guys that are on the team right now. I got to face them almost every day, so seeing that kind of pitching and practicing what I practiced really allowed me to take it into this year and have it be more routine for me."
The results showed immediately when Meyers began this season with Triple-A Sugar Land.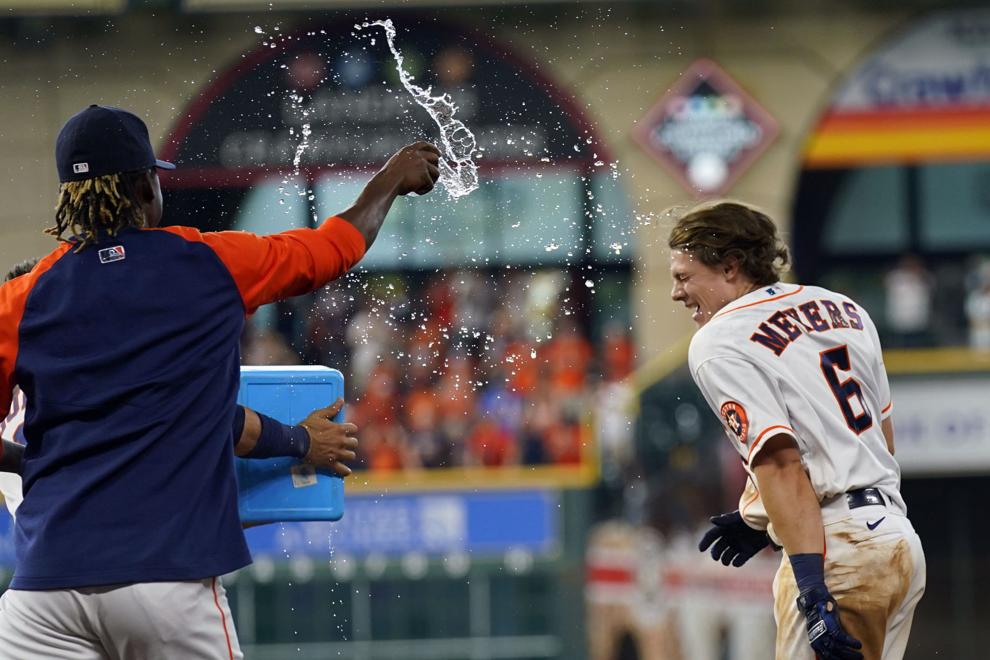 In 68 games, he hit .343 with 16 homers, 17 doubles, 51 RBIs and 52 runs scored. His OPS was 1.006. Defensively, he was making highlight-reel catches that made the rounds on social media.
An athletic outfielder with a much-improved stroke at the plate, who was not considered among the top prospects in the Astros' farm system at the beginning of the year, was now catching the attention of the Houston front office.
When the Astros traded one of their outfielders on July 30, the door opened for Meyers.
Two days later, Meyers made his debut as a pinch-hitter in a close game against the Giants. It came against one of the top closers in the National League this year in Jake McGee.
"He threw me three pitches exactly where he wanted them and I struck out," Meyers said. "That was kind of a welcome-to-the-big-leagues moment, because I knew what he was trying to do, and he executed and he got me.
"It's something that I look on and I'm glad it happened."
Meyers, who was drafted in the 13th round of the 2017 draft, made his first start Aug. 8. He recorded his first hit in that game against the Twins. A few days later came a smashing success.
Meyers hit a home run against the Los Angeles Angels. A few innings later, he crushed a grand slam for a five-RBI day.
"Hitting the ball hard and having results like that definitely helps be more comfortable and understand what it takes at this level," said Meyers, who had three career homers at NU. "It kind of shows that it is the best baseball players in the world, but it is baseball, and so if you do what you've been doing, it will work. You don't have to change who you are. I think really realizing that for me was big and it was fun after that."
Injuries to Kyle Tucker and Chas McCormick has allowed Meyers to pick up more starts, and he's making the most of it.
Meyers was hitting .373 during a 13-game stretch. He has recorded at least one hit in nine of the Astros' past 10 games while occupying center field. On Friday night, he entered the game in the later innings and singled in an an insurance run in a 6-3 victory against the Padres.
"He's not afraid," Astros manager Dusty Baker recently told reporters. "He has a lot of confidence. He has quiet confidence."
Meyers, who was hitting .317 with three homers and 17 RBIs entering Saturday, said he his grateful for the present opportunity. He was mashing for a Triple-A team earlier this year and is now a contributor for a team in the middle of a World Series title chase. The Astros are atop the AL West standings.
Asked about the perks about being a big-leaguer, Meyers, a baseball fan at heart, said it's getting a chance to play inside some neat stadiums. 
Whether the Astros need him in the lineup or as a defensive replacement, Meyers has work to do. There will be humbling moments. Off nights.
But make no mistake, good or bad, Meyers is soaking it all in.
"There are times when I take a step back and I think, 'Wow, this is awesome,'" Meyers said. "This is kind of what I've been dreaming about and really enjoy and grateful for the moment. But on the other end, I really want to do well and get better. More times than not, I'm grateful for the moment, absolutely."