Come on, Fred. You got this, right?
When Fred Hoiberg was hired as Nebraska's men's basketball coach in 2019, the bar wasn't exactly set high.
The expectation wasn't Final Fours or Big Ten championships. Nothing like that.
It was this: Go to the NCAA tournament and win a game.
And then the starved citizens of Pinnacle Bank Arena will build you a statue.
Think about it. Big Ten Hoops may be a rough playground, but the benefit is all the teams that get in the NCAA tournament. Last year there were nine. In 2019, eight.
Just finish in the top nine, go dancing and win a game. In five years at Iowa State, Hoiberg finished in the top five of the Big 12 four times, won three NCAA tourney games and made a Sweet 16. This should be a piece of cake.
In his third year in Lincoln, Hoiberg is 19-51. His current Huskers are 5-6, coming off back-to-back blowout losses and looking about as far from that layup as you can get.
Granted, Go Big Fred had to build. But in three years, it's fair to ask what he's building. A house of cards?
Hoiberg's plan resembles the player who drives to the basket, has a clear shot at the rim and then passes it out to the perimeter for the low-percentage 3-pointer.
He's made this harder on himself than necessary.
Hoiberg has a program built around offense, specifically the outside shot. The offense offers loose reins and multiple green lights for players to shoot, shoot and shoot some more.
It's totally modern, NBA-centric, based on ball movement, finesse and skill. With young players still developing.
And it's a square peg in the Big Ten.
Big Ten basketball is a land of discipline, savvy coaching and older, smart players. Tough. Physical. Rebounding. Defense.
Much like Big Ten football, this hoops league will expose your program if it has holes.
As of today, Nebraska ranks 14th (last) in the Big Ten in defense and rebounding.
NU is 14th in 3-point field goal percentage and 11th in 3-pointers made. And 11th in overall field goal percentage.
I had a tendency to think that Hoiberg's system was better suited for the Big 12. It's known as a "talent" league, where one-and-dones roam and the points fly. That's where Hoiberg made his hay at ISU.
But that's selling the Big 12 short. Five Big 12 schools rank in the top 31 in NCAA defense, including Kansas State — which visits PBA on Sunday night.
Truth be told, NU's formula wouldn't be successful in any of the power leagues of college hoops.
But forget style for a minute. Let's talk substance.
NU assistant Matt Abdelmassih, Hoiberg's longtime friend and right-hand man (also at Iowa State), is currently on a leave of absence for health reasons.
Last October, I spoke to Abdelmassih about the program. I asked him about Hoiberg's fit in the Big Ten and the hurdles they face.
He didn't talk about fundamentals. He talked about development. Program stability.
"The difference in the Big Ten and what makes it the best conference in the country is you have stability in every program," said Abdelmassih.
"Whether it's the coach or leadership at the university to the players. It's not as much of a revolving door as the other leagues. The continuity is very high in the league.
"Certainly, for us, continuity isn't something we've had a lot of, and that's our entire career."
Abdelmassih said their approach has been to "embrace the revolving door age of college basketball." In other words, transfers.
Hoiberg was one of the first in college hoops to build with transfers in 2012. And, one of the first on the cutting edge of his freedom offense.
But nine years later, transfers are much more prevalent. And coaches have adjusted to the offenses.
What's timeless in college hoops is continuity. Chemistry. Veteran groups that have played together.
Is Nebraska leaning toward that?
"We're going to do what we know works," Abdelmassih said. "We're always going to go back to what we know works.
"That's not to say we don't want a core group. Where we are today, it's very hard to say where we'll be next year with the roster. But we feel very confident that a nice core has been set."
There is the possibility of a core group at NU, with several underclassmen, led by freshmen Bryce McGowens and C.J. Wilcher.
But the key going forward to Year 4 will be keeping junior Trey McGowens and his younger brother around. Bryce is already listed as an NBA prospect.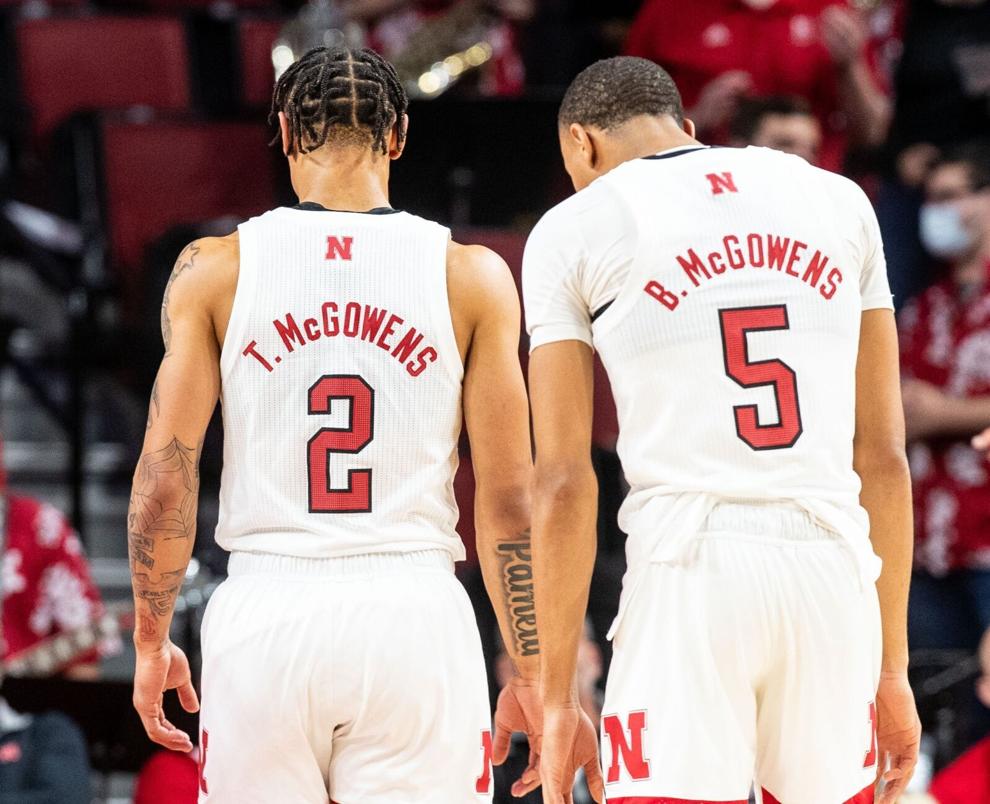 It's why high school recruiting and program development are so important, especially in the Big Ten. If Hoiberg expects to climb up the league standings, he'd better learn to adjust.
Then there's the mental picture. Hoiberg's young team is fragile, and losing its leader, Trey McGowens, to an injury early didn't help.
You have to be careful not to overreact, too. The Huskers were up at N.C. State by double digits and lost in four overtimes. They were competitive and battled at Indiana.
The problem is the program is built on offense and making shots, and when the shots don't go in, there's nothing to fall back on.
That's when the lack of fight and leadership showed up in the past two embarrassing losses to Michigan and Auburn. And it got ugly.
Hoiberg sounded like he was going to have boot camp last week. What he did was make changes to his offense, take away some of the players' freedom and give the coach more control.
Of course, his first instinct was to make changes to the offense.
Honestly, though, defense and rebounding are not something you turn on in December. That has to be a mentality in the offseason. Year round.
Pulling back on the offense is something Hoiberg can control, and he thinks it may give his players more confidence, and thus more energy, more urgency.
"I had to do something to change the vibe," Hoiberg said. "Get us out there competing."
For now, it sounds like a formula to avoid last place in the Big Ten. And this was going to be a year where a team like NU could move up.
This team needs shots to go in. But it also needs to start playing defense. The harder you play defense, the more you want to compete.
Where have you gone, Bruce Chubick? Aren't there some local kids who would love to play some defense, take a charge and draw a line in the sand in the name of ol' Nebraska U?
It's time for Hoiberg to take a big-picture look at his program. FYI: He's got an athletic director who values fundamentals, toughness and development.
Get yourself closer to the basket, Fred. Give yourself a chance.
---