SEARCHING FRANTICALLY FOR A PRESS BOX ELEVATOR IN EAST LANSING, Mich. — You know how it goes when you get turned around in an unfamiliar place. Every sign looks the same, your locational wits fall apart and you're stuck, looking at doors, wondering which one is the grail.
What bounced around in my brain — besides my own confusion — was coach Scott Frost's nine-minute confessional after a 23-20 loss at Michigan State. There's a specific powerlessness when it comes to kickers and punters. It's no excuse — you've got to recruit great ones, and Nebraska has not — but sometimes a skinny soccer player from Omaha Burke named Alex Henery walks on.
Other times, you get Daniel Cerni on a Saturday night. And of course Frost has to answer for The Punt, a true what-in-the-heck moment in the Frost era. And he's had a few.
"Coach Dawson is doing as good a job as he knows how to do and as good of a job as I know how to tell him to do," Frost said, referring to special-teams-coordinator-because-he's-willing-to-do-it Mike Dawson. "We've got to do better and, at some point, we've got to be able to trust guys to do what they were brought here for to do."
As it relates to how a ball comes off Cerni or William Przystup's foot, that's reasonably true. You can try to plot a way to avoid a punt altogether, but that's a strange brand of football. It's true when Connor Culp starts chili-dipping his field goal wedge, too. You tell kickers too much, and you might get worse results.
But without using players' names, Frost went on — to the false starts, to Deontre Thomas' personal-foul penalty, to a failure to catch punts, to the he's-really-great-but-how'd-he-miss-that thoughts on Adrian Martinez — in a way that felt like a summary defense of his work and of his coaches, including offensive line coach Greg Austin.
"Coach Austin stands behind those guys every day at practice and yells 'Move!' and gets the D-line to shift," Frost said. "Everything we know how to do to keep them from doing it. They've got to stay calm, and do their job, and not jump offsides."
More: "We've got to get the pilot light lit and get over the hump in a couple of these games and that hasn't happened because right when we need things to happen, people let us down. And I've got to do a better job."
It's good he got around to that last line, brief as it was. Nebraska's inconsistency — yes, against a ranked team — speaks to a coach and staff that painted decent broad strokes at Michigan State. But the details Frost wants to be perfect? His coaches have to lean into those, too.
The offense has scored 10 points in the first quarter. That's a touchdown and a field goal in 75 minutes. Excluding the touchdown against Fordham, NU has a field goal in four games against FBS teams.
How did NU go from averaging a touchdown per first quarter in 2019 against FBS teams to this?
They're averaging 4.6 yards per play in the first quarter — 1.68 yards less than they average for an entire game. Who is scripting these plays? Are they scripted? Fifty-four first-quarter runs for 3.44 yards per pop. Sludge.
Here's an example: NU's offensive line gives up pressures and sacks by the bushel. Yet Martinez, on NU's first offensive play and its most basic passing concept, also turned down easy yardage in the flat to Samori Toure. He gets sacked. It's your first play — stay on schedule.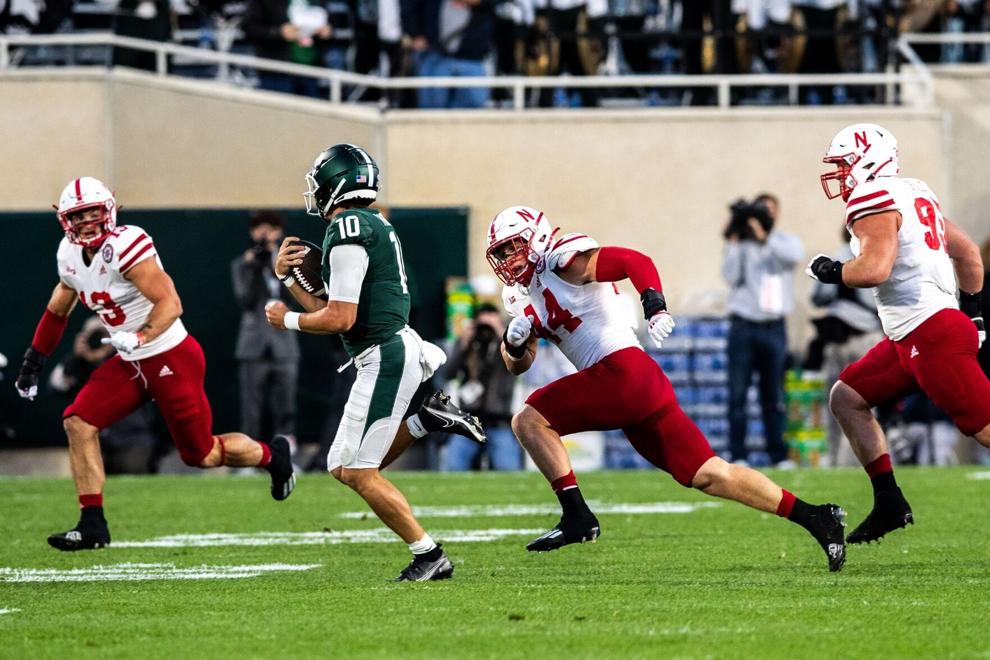 NU's D is stellar, but one corner has twice been taken on a run fake that leaves a safety over the top covering a faster receiver. At Illinois, it set up a short touchdown. At Michigan State, it scored one. Also, these Blackshirts don't force fumbles. One all season. Last in the league.
To their credit, defenders know their weaknesses. The defensive staff has built a darn good scheme. The players get it, and they're rarely out of position.
It's easy to fault Toure for not fielding punts, but in general, he wasn't a punt returner before this season. With the brief exception of JD Spielman, to whom many things came easy, Nebraska has made a mess out of the punt return game since Frost arrived and shown not even a hint of success on kick return.
And if Toure tries to field a gnarly punt and messes up, is he getting pulled, too?
There's a Rileyesque faith — or is it stubbornness? — to how NU approaches the offensive tackles. Might either starter benefit from a "just see it from the sideline" drive? Might at least one of the guards benefit? Austin pulled center Cam Jurgens a few times in 2020, and in the long run, it worked.
Martinez has regressed as a red zone passer. For his career, he's completing 45.2% inside an opponent's 20. This season, it's 30.8%.
He's a different guy down there, with a 5.3% career interception rate. NU produced two red zone touchdowns this week, but the overtime sequence was unfortunate. Should the Huskers have played for two downs and run it on third? They average 3.04 yards per carry down there. Why not play for two downs?
We each have our pet stats. It's fun to talk yards unless they're empty, then they're schmards, and the real yards are what all the Big Ten punters create when they play NU. There were seven league punting units that landed in the nation's top 25 last week. Nebraska's did not.
Simply, that unit, along with a bunch of other things, is costing the program wins, fans and general faith. Frost, if he can pull this team to five or six wins, may well survive it, especially if Martinez gives the hint that he's coming back.
But, try as Frost might to defend his staff, the Rewind strains to see anything other than major changes. Big Ten defenses are good — but they're not this good. Big Ten punters are great — but not so great a punt can't be fielded.
Nebraska players don't intend to punt on their season yet.
"We're not gonna croak," tight end Austin Allen said.
Said linebacker JoJo Domann: "We're not quitting. It's not in our DNA. It's not an option."
A loss to Northwestern, and the conversation about coaches quickly escalates. Frost thinks this is a good team? Then it will play — and coach — like one. The coaches either find the elevator — which I did — jog the stairs, like my colleague Evan Bland did, or miss deadline. Frost may benefit from the "apparatus" argument his boss, Trev Alberts, made earlier this summer. Frost's coaches, on the other hand, may be the apparatus in question. Alberts watched the game's end from the sidelines. What's he thinking?
I see you
NU defensive coordinator Erik Chinander: The head coach of Nebraska's defense — Frost stays out of that room — has the right ingredients in the lunch pail.
MSU receiver Jayden Reed: Four catches for 59 yards and a touchdown and three returns for 131 yards, including the punt return. The Spartans have found their returner. Looked a lot like Aron Cruickshank.
NU's linebackers: Particularly Garrett Nelson, JoJo Domann, Luke Reimer, Nick Henrich and Caleb Tannor. There are basically five of these guys on the field at any given time, and they're coached by two guys. It looks like it, too. Their attention to detail and physicality is what the Huskers want. All but Domann can return in 2022.
Defensive tackle Damion Daniels: He made life easier for NU's linebackers.
Martinez: Lots of derring-do and escape artistry. Mistakes, too. He had 307 total yards on 53 rush and pass attempts. It's a lot to ask. How durable can he be?
Running back Rahmir Johnson: Tougher than a well-done steak after 19 bruising carries for 76 yards. The Huskers appear to have their guy. I guess it works.
Receiver Zavier Betts: Five catches, 62 yards and a second-half disappearance due to an injury. He sat on the bench with ... something.
MSU running back Kenneth Walker: He didn't have a very good game, but he gets a major assist on the Spartans' first touchdown because NU cornerback Quinton Newsome creeped up something fierce when Walker got the ball, only to flip it back to quarterback Payton Thorne, who found Reed for a flea flicker score.
MSU safety Xavier Henderson: He had 17 tackles, including a crunch of Martinez that sent No. 2 out of the game for a drive.
MSU defensive linemen Jacob Slade and Jacub Panasiuk: Combined for three sacks, four tackles for loss and a forced fumble. Nebraska's offensive line couldn't handle those guys.
Seven stats
Five: Lost fumbles this season. That's one per game. NU has nine fumbles overall, and given the amount of triple option the Huskers build into their offense, that's not much of surprise. Expect more of it.
The 1997 Huskers lost 17 fumbles and had 36 of them. Happens. Martinez has lost two so far — both his fault because he was trying to make more of a play than was there.
Two: Big Ten quarterbacks who rank in the nation's top 30 in yards rushing. Martinez and Noah Vedral. Only three — those two and Penn State's Sean Clifford — rank in the top 50. Ten were in the top 50 in 2012. The game is changing — can NU change with it?
11.09: Gap between the opponents' net yards per punt (42.04) and NU's net yards per punt (30.95). That's a first down per punt. To put this in context, the Huskers' net punting average ranks last in the Big Ten while its opponents' average would rank somewhere close to the nation's top 30. MSU came into the game averaging 39.83 yards per punt. It averaged 52.3 against Nebraska. The Huskers averaged 21 yards.
2.2: Red zone trips per game for Nebraska's opponents. Michigan State had three, including one in overtime. All three trips resulted in field goals. MSU's two touchdowns — the punt return and the 35-yard flea flicker pass for a score — came from outside NU's 20.
14.29%: Opponents' fourth-down conversion rate against the Blackshirts. That's elite. Two Big Ten defenses — 2020 Wisconsin and 2015 Penn State — have held opponents under 20% since NU joined the league.
13th: Nebraska's Big Ten rank in opponent yards per carry allowed. That's something, because the Huskers are allowing 4 yards per carry, which last year would have ranked around 44th in the nation. In 2021, it ranks 74th. Defenses rule this season.
17-16: NU's record in October since joining the Big Ten. Forget November — the Huskers really struggle this month, and that's been true of Frost, too. He's 2-5 in October. Buckle up. It's never easy.
Facebook Feedback
After each game, I ask fans on my Facebook page to post their takes on the game. Selected and edited responses follow.
Ken McManaman: "The errors are now in the heads of the team members — making them wonder if we will ever win, if we'll ever have a top 10 team again. That "mind-bend," for lack of better words, is the most onerous and insidious and will be most difficult to fix going forward."
Ken Versaw: "Having Mike Dawson splitting time at both outside linebackers and special teams shows that deep down Frost doesn't really consider special teams that important. Hopefully this will be the game where he realizes that special teams are deserving of a full time coordinator."
Curt Peterson: "Defense worked as an elite squad. The rest you can throw in the garbage. Tiresome roller coaster going nowhere again."
Opponent watch
Minnesota coach P.J. Fleck laudably owned the Gophers' 14-10 loss to Bowling Green. Fleck's team was a 31-point favorite, and Fleck coached like it, inexplicably going for a fourth down at his own 29-yard line with a 3-0 lead. The decision led to a BGSU touchdown that changed the tenor of the game.
"I told the defense, 'Those are mine. I decided to go for it on fourth down. Those are my seven,' " Fleck said. "Those are the points that lost the game, basically."
Northwestern running back Evan Hull rushed for 216 yards and two touchdowns in the Wildcats' 35-6 rout of a bad Ohio team. Northwestern rushed for 373 yards overall and will pose the same challenge to Nebraska that Pat Fitzgerald's teams — even the bad ones, and this one is bad — often do. Look for, say, a three-point game.
Forecast
It could take a week — or more — for the heartburn to die down. Five of Nebraska's last seven are at home. Perhaps the false start penalties won't be so bad in Memorial Stadium.
---