There are no breaks on the recruiting trail.
While Nebraska's 2023 recruiting class hasn't changed over the last three weeks, the NU coaching staff has been busy extending offers to prospects across several age ranges.
Only two recent offers went to 2023 prospects: running back Arnold Barnes and junior college offensive lineman Keyshawn Blackstock.
Barnes committed to Tulane on Sept. 4, but that didn't stop Nebraska from offering him a scholarship two weeks later and hosting Barnes for an official visit during the Indiana game. While Barnes recently tweeted a message confirming he's still committed to Tulane, he continues to be a priority for Nebraska considering the Huskers lack a running back commits in the 2023 class.
Nebraska's other 2023 target, Blackstock, is currently enrolled at Coffeyville Community College in Kansas, and the 6-foot-5, 315-pound prospect has seen plenty of interest from around the country. Nebraska offered Blackstock on Oct. 3, while West Virginia, Florida, Tennessee and Oregon all offered Blackstock within the same week; he holds over two dozen more FBS offers.
* In terms of NU's 2024 recruiting class, there have been several new offers on that front. A trio of Michigan-based prospects — four-star athlete Jacob Oden, three-star linebacker Jeremiah Beasley and three-star athlete Caleb Williams — all received scholarship offers during Nebraska's bye week.
Beasley and Oden both have plenty of interest from Michigan State, while Williams' recruitment appears wide-open with Central Michigan, Pittsburgh and Tennessee standing as his other offers.
* Nebraska also recently offered a pair of 2024 offensive linemen. Three-star recruit Grant Brix of Logan, Iowa received an offer on Sept. 29 and attended NU's win over Indiana that weekend. The 6-6 prospect also has scholarship offers from Iowa, Wisconsin, Oklahoma, Kansas, Minnesota, Missouri, Iowa State and Kansas State. In-state Omaha Central lineman Caleb Pyfrom received his first scholarship offer from Nebraska on Sept. 28, while Kansas followed with an offer this Sunday.
* Nebraska offered 2025 quarterback prospect Cutter Boley on Sept. 28, but it'll be an uphill battle to land the nation's fourth-best quarterback recruit according to 247Sports. Boley also has offers from the likes of Alabama, Michigan, Mississippi and Oregon.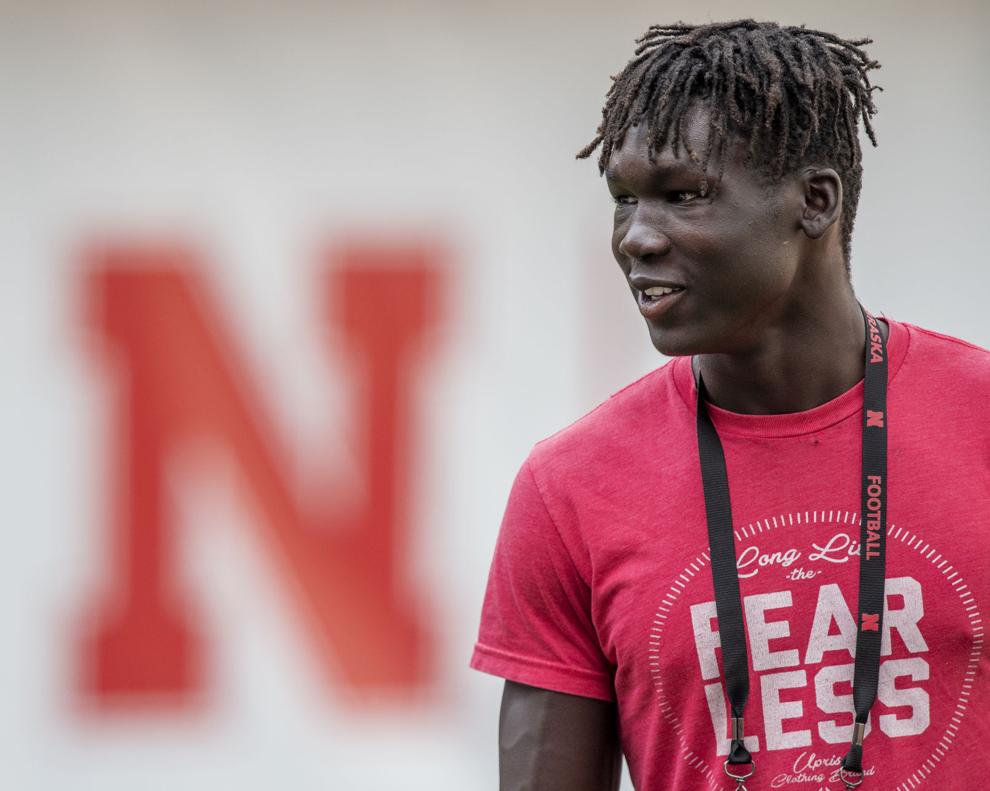 * The time for top 2023 in-state prospect Malachi Coleman to announce his decision is nearly here. Coleman will make his announcement on Oct. 22 during Nebraska's bye week, and he's been a fixture at all of Nebraska's home games this season. Coleman had also planned to visit Miami (Florida) last weekend but tweeted that "they cancelled (sic) on me." Considering the strength of Coleman's relationship with interim head coach Mickey Joseph, NU remains the front-runner for the talented Lincoln East athlete.
* When Joseph took over as NU's wide receivers coach in the winter, in-state recruiting was one of his top priorities. Even with additional duties as the program's head coach, Joseph continues to build relationships with promising in-state recruits. 2025 Millard North athlete Caden VerMaas received his first scholarship offer from Nebraska on Oct. 3 in the midst of a strong sophomore season. A running back on offense, VerMaas has totaled 435 rushing yards and three touchdowns so far this season, while he's recorded 32 tackles as a safety on defense.
VerMaas is the third 2025 in-state prospect to receive an NU offer; Omaha Westside linebacker Christian Jones and Omaha North defensive lineman Tyson Terry are the others.
* An in-state prospect on NU's radar is 2026 athlete Champ Davis, who is currently a freshman at Omaha North. The 5-8 wide receiver has been efficient in short doses for the Vikings, as three of his six receptions have gone for touchdowns with an average of 30 yards per reception. Nebraska is the first school to offer Davis.
* Nebraska has offers out to 2024 Ainsworth tight end Carter Nelson and 2024 Bellevue West quarterback Daniel Kaelin, but many other schools have shown interest in those recruits. While Ainsworth hadn't had a winning season in 20 years, a monster season from Nelson has the Bulldogs off to a 7-0 start. Duke and Baylor extended offers to him within the last two weeks. On the other hand, Kaelin attended Nebraska's loss to Oklahoma, went to Kansas on an unofficial visit two weeks ago and received an offer from Kansas State on Sunday.
* Two in-state prospects have FBS interest from schools other than Nebraska — Bellevue West wide receiver Isaiah McMorris and Gretna offensive lineman Mason Goldman. McMorris transferred to Bellevue West from Millard North this summer and immediately became a big-time playmaker in the Thunderbird offense. Perhaps aided by the defensive attention on top-150 national recruit Dae'vonn Hall, McMorris is Bellevue West's leading wide receiver with 57 catches for 948 yards and 11 touchdowns so far this year. Texas Tech offered a scholarship to the speedy wideout on Friday.
Goldman, a 6-6 offensive line prospect, received his first offer since the summer when Missouri came calling last week. Kansas, Arizona State and Wyoming are among Goldman's other offers.