Nebraska football writer Parker Gabriel offers his extra points from the Husker football team's 23-16 loss at No. 3 Oklahoma on Saturday.
It was over when: Nebraska didn't have much of a chance, but it did have the ball with 57 seconds to go and needing to cover 83 yards to try to tie or win the game.
On the first play of the drive, head coach Scott Frost dialed up a shot play and kept seven in to protect junior quarterback Adrian Martinez. He got sacked anyway. It was almost over by that time already, after OU whittled 4:40 off the clock before punting late, but that was the final nail in the coffin.
Turning point: Nebraska got the ball to start the second half and drove it right down the field, threatening to turn a 7-3 deficit into its first lead of the day. Instead, the Huskers stalled out and senior kicker Connor Culp missed a 35-yard field goal. Ten plays and 58 yards for naught. Then, Oklahoma went 80 in 10 plays the other way. Instead of maybe being 10-7 NU or at least 7-6, the Sooners extended their lead to 14-3.
Quotable: Oklahoma head coach Lincoln Riley on Nebraska junior quarterback Adrian Martinez: "He's a good player, man. I mean, he's not just fast and athletic, but he's built pretty well, too. He's a big kid and almost kind of slips out of some stuff like (former OU quarterback Baker Mayfield) used to a little bit, kind of the thickness sand he's just not easy to bring down. That's obviously one of their best weapons is when he pulls it down and runs it. He's gifted. I thought a couple times, especially when we got push from the interior, we were able to kind of just converge on him, and that's what obviously what you want.
"When you get in one-on-one situations with a guy like that, obviously you want to get him down every time, but that's where the rest of your defense has to be there to clean it up. That's where I thought we were good."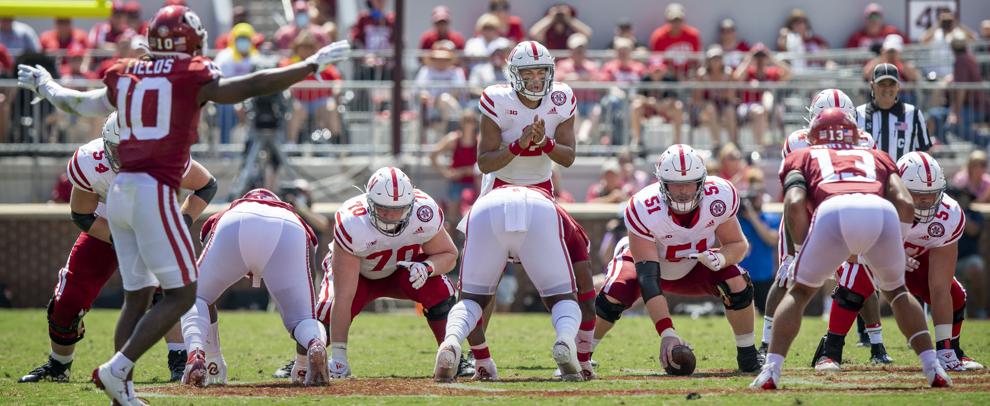 Game ball: Martinez played great. His first interception of the year was on fourth-and-17 and trailing by 14 points when the Huskers needed a play. Other than that, he averaged 11.6 per attempt and got what he could on the ground.
Game ball: OU outside linebacker Nick Bonitto had three tackles for loss, including a pair of sacks. He was part of a disruptive Sooner front that put pressure on Martinez consistently and by the end of the day had five sacks and 10 TFLs overall.
Hat tip: Nebraska's defense overall held Oklahoma to 23 points, 408 yards and 5.9 per play. It wasn't perfect, but a pretty darn good effort from the Blackshirts.
Deep connection: The Huskers have been trying to hit Zavier Betts on a deep ball all season and finally did it when he beat one-on-one coverage up the left sideline and Martinez put a perfect ball on him for a 55-yard gain in the fourth quarter.
10.3: Yards per passing attempt for Martinez through four games, a sparkling number. His career best for a season is 7.8 (2019).
50: Net punting average for NU behind William Przystup, who got the nod over Daniel Cerni for the first time this year.
0: Sacks for Nebraska against OU, the second straight dry week for the Huskers' pass rush.
1: Sack in 15 quarters for the Blackshirts after three in the season's first 15 minutes against Illinois.
12: Catches for the Husker quartet of pass-catchers (Austin Allen, Travis Vokolek, Betts, Omar Manning) whose availability was up in the air due to injuries.
194: Receiving yards for that group.
2.26: Times as many rushing yards for Martinez (290) this season than for NU's next best rusher (Markese Stepp, who did not get a carry against the Sooners).
326.8: Offensive yards per game for Martinez through the first four. He's turned the ball over twice and accounted for nine touchdowns.
2013: The last time Oklahoma scored fewer than 24 points and won a game. Saturday was OU's lowest point total in any game since its season opener in 2016.