First downs and second guesses of the century:
One of my favorite Nebraska-Oklahoma memories came when I saw Johnny Rodgers in the end zone.
This was 2008, Bo Pelini's first year and the last time Nebraska visited Owen Field in Norman.
OU decided to hold a Game of the Century reunion, with all the players from that epic game invited to a Friday night reception. The Reunion of the Century.
I was there to cover it. The reception was in OU's Hall of Fame building in the corner of the stadium. When you parked, you had to walk across the end zone of the field to get there.
What timing. I arrived at the same time as Rodgers. Dressed in a bright red blazer and black slacks, Rodgers made his way across the same end zone where he scored the most famous punt return in college football history.
Across the stadium on a giant video screen they were showing the original ABC broadcast of the 1971 game. And lo and behold, they were at the part of the punt return.
Rodgers stopped and looked up at the screen to watch himself juke, zig, zag and sprint down the sidelines.
"Hey, Johnny," I said. "How many times have you watched that play?"
He said, "That's the first time I've ever seen that broadcast."
Another goose bump moment, courtesy of the great JR.
Oklahoma fans from that era have always said NU's Joe Blahak clipped Jon Harrison near the end of the punt return.
It's a great bar debate and may very well be one this weekend in Norman.
Husker fans, take this along:
I was going through an old book, Michael Corcoran's "The Game of the Century." In it, he quotes Harrison on the famous play.
Says Harrison: "I like to tell people I was (clipped) just to get them going, but I really wasn't."
Harrison added, "I had outside contain on the right and I sort of forced (Rodgers) back into the middle and then got pushed out of bounds.
"Then I turned around and ran down the sidelines and he got cornered and came back toward me and I was just about to reach him and I got blocked.
"It was on the side, and you could block below the waist back then."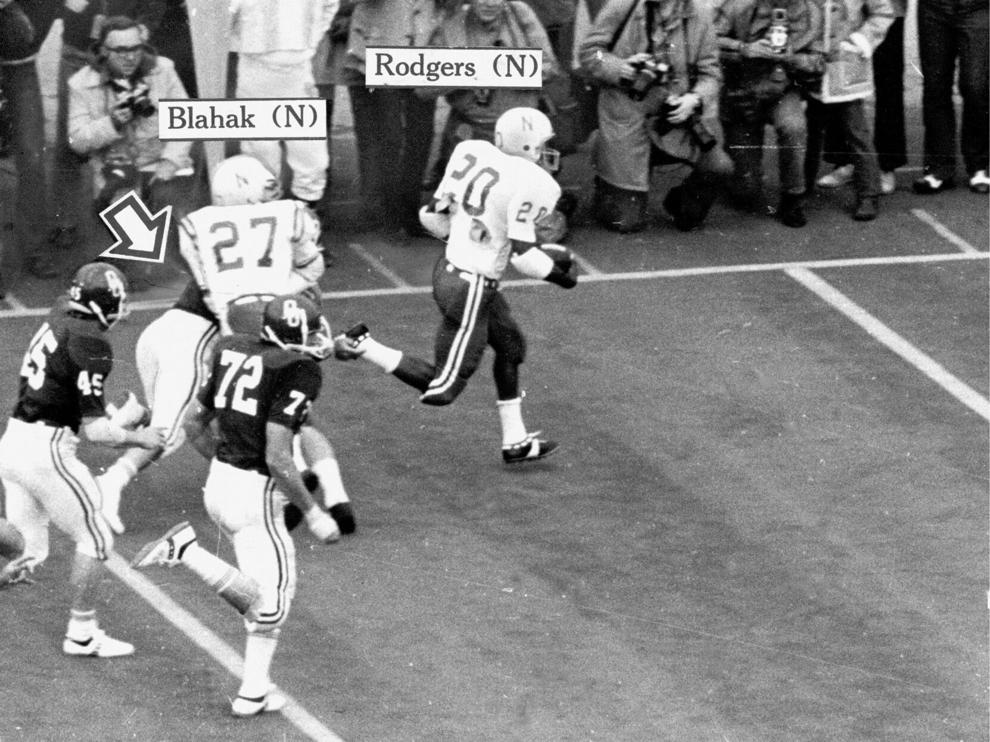 » The day before the Game of the Century, Bob Devaney gave writers his defensive strategy. He said he planned to use the "Pepper Rodgers defense," the one the Kansas coach used in the Orange Bowl against Penn State.
"But Kansas had 12 men on the field," one of the writers said.
"Now you got the idea," Devaney said with a chuckle.
Devaney was a sly fox. Barry Switzer said the year before that NU had played an "over shift" defense with more defenders lined up on one side. The 1970 game was OU's first in the wishbone offense, and it hoped Nebraska would do the same in 1971.
But Devaney and defensive coordinator Monte Kiffin figured it out and didn't play the over shift.
Of course, OU still scored 31.
» I've always been fascinated by the Oklahoma-Nebraska rivalry, particularly the Osborne-Switzer era from 1973-88.
In the spring of 1988 I pitched a story to the Sporting News for their extensive summer college football magazine. I wanted to compare and contrast the two top programs in the country. They liked the idea. It became their front cover.
And I believe it was the first time Osborne and Switzer had ever done a photo shoot together.
The lede to that story came from former NU defensive coordinator Charlie McBride, telling the story of how a Southwest Conference athletic director showed up at a Husker coaches staff meeting and offered Osborne and the staff a job and a raise.
"One time Tom was offered four big ones to go to the Houston Oilers," McBride said. "Four million-plus."
Later in the story Osborne explained, "I'm not really attracted to the pro game. I don't like contract disputes and some of the other things that go on there. I don't like the pro game."
Osborne added, "I still love (college) coaching and I have no ambition to be athletic director."
Switzer: "Where do you go from Oklahoma and Nebraska? I don't think there's anywhere to go, unless you want to go to professional football, and I think Nebraska and Oklahoma are better than 20 of the pro jobs."
» Another interesting tidbit from the "Game of the Century" book: Oklahoma coach Chuck Fairbanks played tight end and outside linebacker on Michigan State's 1952 national title team.
His position coach at MSU: Bob Devaney.
» Also from the book, Nancy Osborne on Tom: "I've often thought that Tom belonged to a generation gone by, from a time when the West was won. There was a time when a handshake meant a deal was done, when a man was measured by his actions, not by what he said. Tom doesn't say much, but when he does, he really has something to say."
» Switzer is my favorite character in college football. It's been that way since 1977, when as a sophomore on the Missouri school paper I called him for an interview. I thought I would get his secretary and an excuse.
Switzer answered the phone. And we talked for 30 minutes.
Nearly a decade later I was going to Norman for OU-Kansas and arranged to meet with the coach on Friday afternoon. Yes, the day before the game.
As his team went through a walk-through on the field without him, Switzer sat behind his desk, cowboy boot propped up, and smoking a stogie. He told his entire "Bootlegger's Boy" childhood tale, and gave me a line I'll never forget:
"Some people are born on third base and think they hit a triple."
Many years later in the dead of winter in Omaha, I walked into a midtown bar. There was Switzer, in a full mink coat, sipping a glass of wine and entertaining a crowd.
"I'm doing a cellphone commercial with Tom (Osborne) tomorrow," Switzer said. "What can I get you?"
Hope we get to see the two legends together this weekend. Minus the mink coat.
» Three more and I'm outta here: Does USC have a coach lined up? What if Bob Stoops and Urban Meyer aren't available? I wonder if USC is going to find out the job isn't as attractive as it thinks.
» Two more and I'm outta here: At last week's Nebraska-Creighton volleyball match at the CHI Health Center, I saw a new addition to the arena.
Five banners, hanging side by side, with the numbers of five retired jerseys: Kyle Korver (25), Bob Harstad (30), Bob Portman (33), Paul Silas (35) and Bob Gibson (45). Well done.
» One more and I'm outta here: NU Athletic Director Trev Alberts told me last week that the Huskers will play UNO in hoops, though he didn't say when. How about that, Derrin Hansen?
---