It was almost a night to remember. Instead it will be a game nobody can forget.
Nebraska fans had the winning lotto ticket then discovered it was fake. Came to the bar to celebrate and were told it was closed.
How much can a program and fan base endure?
If there's a gut-punch worse than that, I don't want to see it. Don't want to feel it.
The Huskers were on the verge of turning the tables in the "Woodshed." Imposing their will in a big-game atmosphere at Michigan State.
Taking a landmark victory that would have brightened the mood and the immediate future in Lincoln.
So how did they end up seizing defeat from the jaws of victory?
An errant punt. A punt return for a touchdown like a bolt of lightning.
Nebraska, struck down again.
Overtime. An interception. And a wildcat run to the goal line. Two plays.
Three hours of roller-coaster ups and downs and finally a Scott Frost program that was about to arrive.
Wiped away, just like that.
This program has never looked tougher, never more resilient than it did Saturday night for a national audience.
People tried to bury them after the loss at Illinois. Predicted they would get blown out at Oklahoma. Said they'll never bounce back and handle the new cool kids at Michigan State with the stadium branded "The Woodshed."
Then for nearly 58 minutes, Nebraska looked like warriors, looked like a team with a Big Ten defense and a quarterback who wasn't taking no for an answer this season.
Now we'll see how tough they really are.
Adrian Martinez is tough. The man showed it again, laid it all out there Saturday night. He's not perfect. But he's a warrior. Let there be no doubt.
Early in the game, first drive, Martinez got hit on a sack, got thumped in the head as he lay on the ground. He was still for a while.
Finally, he got up and walked off under his own power, then he was off to the locker room. Was it a concussion? Was Martinez done for the night?
No. He came back. And how.
He ended up running for two touchdowns, the first on a keeper in which the quarterback flashed some brilliant moves.
He completed 24 of 34 passes for 248 yards, and he was dialing in tight ends and receivers and hitting most every target. He was making plays.
Against a very good Michigan State defense. Yes, in the Woodshed.
Then there were the Blackshirts. They came to play this season. We saw that at Illinois. But they just keep growing, just keep upping the ante every week.
On Saturday night, JoJo Domann and Luke Reimer and the lads played their best game of the season. Shut down the Michigan State run game that everyone said was going to run all over them.
They made Sparty one dimensional and it was the correct dimension. Quarterback Payton Thorne wasn't going to beat them. Defensive coordinator Erik Chinander peppered him with blitzes and looked like he was totally in sync with his Blackshirts.
This looked like a defense, and a quarterback, that was going to be hard to beat the rest of the way in the Big Ten.
They looked like they had found a formula, and the time of possession advantage of 37:28 to 22:32 said it all. A team that could go into a Big Ten stadium and do that would be a team to be reckoned with.
But then there we were, at the end, wondering how a team with that kind of advantage could find a way to lose.
Nebraska has become a team of strengths, well-defined strengths. But they keep getting overwhelmed by the flaws. The mistakes.
Late Saturday night, just when you thought the coast was clear, here came the trap door. The banana peel.
Punter Daniel Cerni punted the ball to the left side. Frost said the punt was supposed to go to the right.
The reason? The left was basically uncovered and Jayden Reed caught the punt and sprinted toward the end zone and a tie game.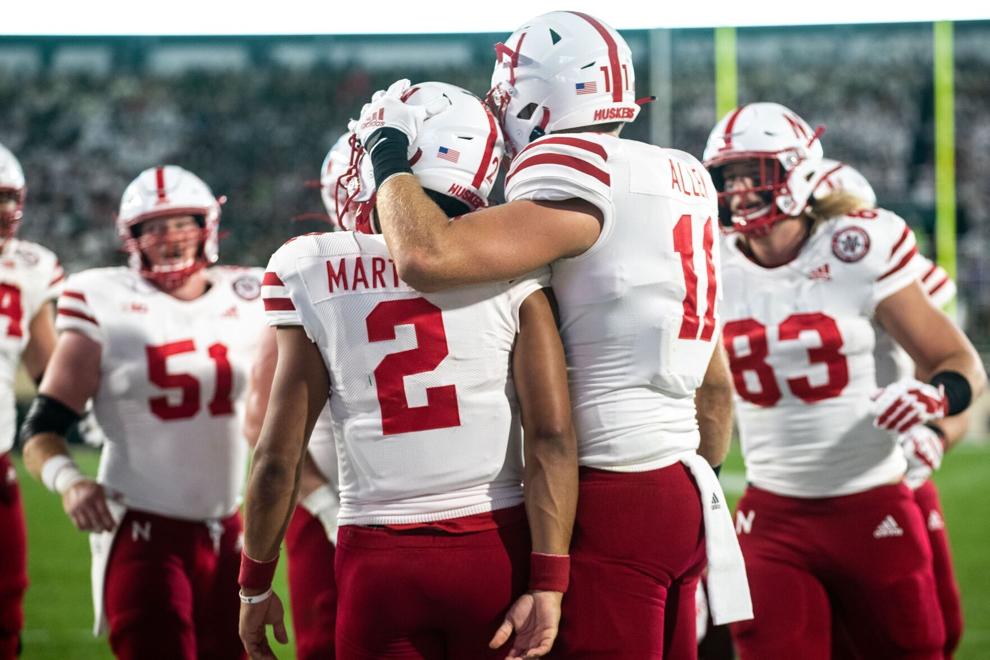 Why did that happen? If we could ask the special teams coach, we would.
But instead the question goes to the head coach who won't hire a special teams coach.
Then, in two plays in overtime, it was over. An interception by Martinez, who apparently didn't see MSU's Chester Kimbrough in position to make the pick.
Then, on first down in overtime, Kenneth Walker took the snap and ran 23 yards out of the wildcat to the NU 2.
And that was that. Two plays that reminded us that, no matter how far they've come or how tough they played, the Huskers' margin of error is still so thin.
Is pain progress? Nope. Real progress comes on the scoreboard. The one that was too painful to look at it.
But if pain can be a driving force, this team and fan base will be back again next week, off the mat, ready to kick down the door. But that's for later.
This one's going to hurt for a while.
---