That's what you had to know after seeing this eye-popping scene unfold during a serving drill at practice just a few days before the first match of the season for the Nebraska volleyball team.
"I'm coming for you," a player yelled across the net at a teammate, and the player who said it may surprise you.
That was freshman middle blocker Bekka Allick — without a single collegiate kill to her record, let alone an ace serve — taunting first-team All-American libero Lexi Rodriguez. Allick had just got a great serve across the net that Rodriguez couldn't handle.
What we now know is that was just Bekka being Bekka.
Whoa. That was when it was apparent that there's nothing timid about Allick.
Then, and over the past three months, fans and media have learned more about one of the biggest personalities on the team.
Funny. Thoughtful. An energy-giver to her teammates, be it through encouragement or a joke. Extremely dedicated to helping Nebraska be successful. She says she takes each of Nebraska's losses personally.
And Allick being able to play at a high level as a freshman has been critical as Nebraska attempts to win a Big Ten title and reach the NCAA Final Four in Omaha.
"She's just really committed to helping this team be successful, and to her own growth," Nebraska senior Madi Kubik said. "It's really awesome to see in such a young player."
Nebraska has had some funny players over the years. Annika Albrecht comes to mind. Kelly Hunter could crack a joke, sometimes at the expense of coach John Cook, but he didn't seem to mind.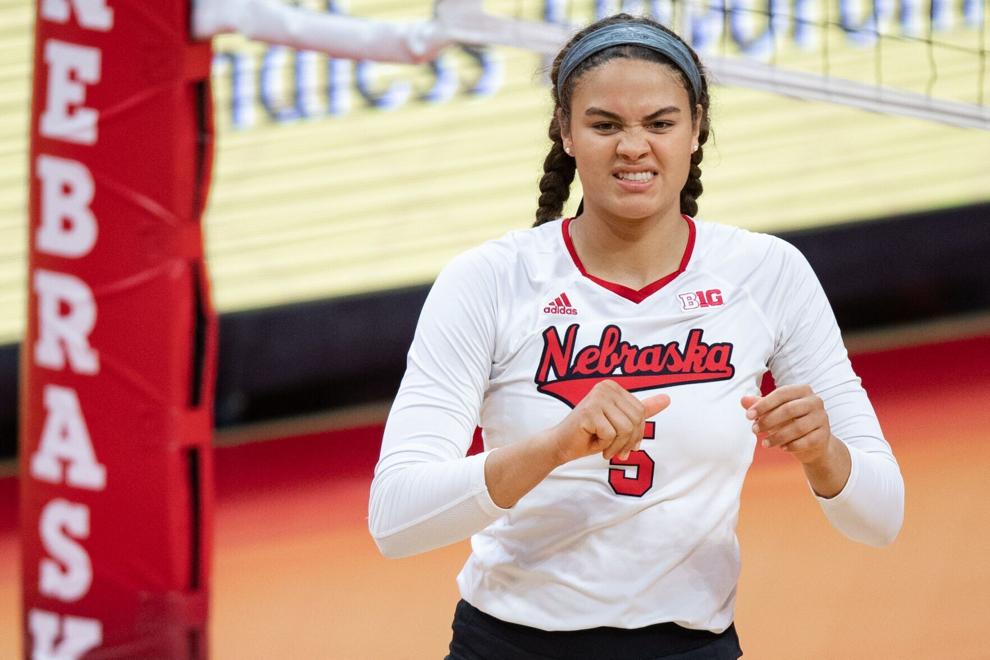 And you can add Allick to that list.
While sharing a few details about a Halloween practice with costumes, Allick said that four players' costumes included some form of facial hair.
"I think by far Whitney (Lauenstein) had the best mustache," Allick said. "She had the handlebar, and it was well-defined."
Allick said Cook didn't participate.
"Coach Cook is a businessman, so I respect that," she said. "But we were kind of a little bummed. Not even a cowboy hat, or anything."
During a match, after a long rally, sometimes Allick will talk to the players on the other team.
"I'll be like, 'Man, that was long,'" Allick said. "Just keeping it real."
About Kubik, Allick says, "She's awesome. She honestly reminds me of a golden retriever sometimes. She's just super-bubbly, and kind of all over the place. But at the same time, she's super-sharp when you give her a target. That woman has a killer instinct, but she's also so fun."
So where does that big personality come from? Her family, mainly her mom, Collen Ziegelbein. And her uncle, Brady White. He's a military veteran who is a firefighter in Alaska, but he was around when Allick was growing up.
"My parents are divorced, so my uncle and my mom helped raise me a lot," Allick said. "And both of them are very passionate about life, and how they do things. They pretty much showed me how I want to live my life. I don't know, just take advantage of every moment we have on this earth. They're the reason I have such a big personality, and why I get so excited and so enthusiastic."
Allick doesn't intend on coasting.
"I don't ever want to go through the motions," she said. "I want to be very present."
Allick graduated from Waverly early and joined the Huskers in January for the beach volleyball season and spring practice.
Even then, she didn't ease into finding how she fit in with the team and what would be appropriate for how to act.
"Oh, all Bekka from the start, always," she said. "You just kind of throw everybody off in the deep end about what they're dealing with from the get-go."
And her teammates like it that way.
"Her energy is refreshing because a lot of us can get kind of down on ourselves when we're not having the best game," Rodriguez said. "I think no matter if she's having a good game or a bad game, she always brings that energy. People feed off of that."
Lauenstein played with Allick one season in high school and now again in college.
"Bekka has always been Bekka," Lauenstein said. "She's such a funny person. She never stops talking, but that's OK because she brings a light into the room. I love Bekka for who she is. She's always been such a funny and outgoing person."
Allick was the No. 6 national recruit and has played several matches as a member of the United States junior national team.
But the thought was that Allick may not be a starter during her first college season because Nebraska had two senior All-American middle blockers with Kayla Caffey and Kaitlyn Hord. Allick would probably play some early in the season, but then maybe not as much.
Then everything changed when Caffey transferred to Texas just before practice began.
Allick hadn't expected to be a starter.
"I made it my goal to be the No. 1 middle on the B side," she said. "And then a lot of things started happening, and people started leaving and I saw this position open."
Allick's first reaction when she knew Caffey was leaving was sadness.
"Initially what came to my mind was honestly our relationship, and realizing that we weren't going to be as close and I was going to be missing a really great friend," Allick said.
After that, Allick had to get more focused.
"I think a lot of expectations fell on me even more once she left, knowing that my chance of having to fulfill a role were going to be a lot higher," Allick said. "That meant I had to step up my mental game and physical game a lot faster than I anticipated."
Allick was born in San Antonio and moved to Lincoln when she was 6 years old.
She says it feels like she's been around the Husker volleyball program longer than she actually has. That's because she was playing club volleyball at Volleyball Club Nebraska, the Lincoln club owned by former Nebraska setter Maggie Griffin.
"They started teaching me the Husker way, and I didn't even know it," Allick said. "I didn't put two and two together until I went to a (Nebraska) Dream Team camp and we were doing a drill that I had already been doing at my club volleyball gym."
By the time she was an eighth grader, Cook had seen enough and offered Allick a scholarship. She committed before she played her first high school match.
She played at Lincoln North Star for two years before moving to Waverly for her final two years of high school.
Now at Nebraska, Allick has had many of her best matches during the second part of the season. During Big Ten matches, Allick ranks No. 6 in the league in hitting percentage (.356). She's one of just two freshmen in the top 10 of that list.
Allick also ranks third on the team in blocks with 78, behind Hord (141) and Lauenstein (98). In one of Nebraska's biggest wins, against Ohio State in Lincoln, Allick had eight blocks.
She says blocking is the best part of playing her position.
"It is so fun to just shut people down, and be a part of that and just be scrappy," Allick said. "You're in the middle of all of the action."
And that's right where she wants to be — in volleyball and life.